Barratt and David Wilson prepare to launch homes at Wintringham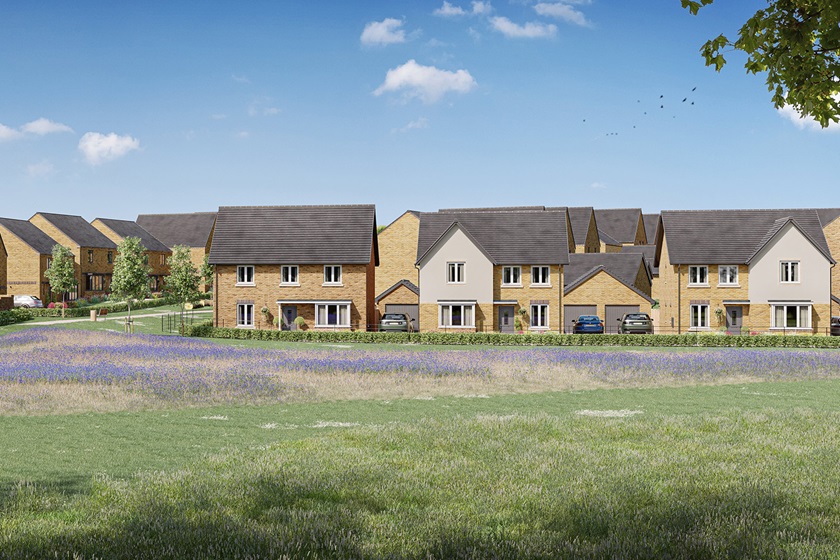 Barratt and David Wilson Homes is set to launch new homes in Wintringham, St Neots on Wednesday 27th July.
The leading housebuilder has become the fourth developer to join the wider development and will soon provide a new opportunity for Cambridgeshire house hunters to progress on the property ladder.
Barratt and David Wilson Homes at Wintringham, located on Nuffield Road, brings a collection of 336 one to four bedroom homes to the area which will appeal to all property seekers, including first time buyers and growing families. The mix of homes will include much needed affordable rent options, and the development's first bungalows.
The homes will be ideally located close to the development's first school, Wintringham Primary Academy – which this year secured the regional RIBA award for sustainability due to its whole lifetime carbon footprint – as well as the future district centre, which will feature shops, services and leisure facilities.
As part of the strong sustainability drive at Wintringham, each home will come with electrical vehicle charging points. The layout of the development has also been designed to encourage safe walking and cycling, with easy access to green space and links to the wider cycle and pedestrian network of Wintringham.
Joe Dawson, from Urban&Civic, master developer for Wintringham said: "We are delighted that Barratt and David Wilson Homes are launching at Wintringham and the large number of homes offers a great diversity to suit people at all stages of their lives.
"Being a few minutes' walk to St Neots train station, close to the primary school, and with green walkways and green spaces within the parcel, we look forward to working with the Barratt's team to bring forward their homes."
Alison Raine, Sales Director at Barratt and David Wilson Homes Northampton, said: "We're excited to be launching our homes at Wintringham St Neots and we are pleased to be joining this growing community.
"We've already seen a lot of interest in the development, and we expect appointments with our Sales Advisers will be booked up quickly so we'd recommend eager homebuyers act quickly to avoid disappointment."
The Wintringham development will provide two new primary schools to the area. The first, Wintringham Primary Academy, is set at the heart of the Wintringham community and the second will be built in a later phase of the development.
Commuters will also be well catered for with the development being less than 18 miles from Cambridge and just under 30 miles from Peterborough,
For further information about Barratt Homes at Wintringham or David Wilson Homes at Wintringham, visit the website or call the sales team on 033 3355 8481 (Barratt Homes) or 033 3355 8482 (David Wilson Homes).
---